5 Costly Copyright Mistakes You're Probably Making: For Authors, Bloggers, and Creatives
Register now for my FREE Masterclass!
In the complicated world of copyright, what you don't know CAN and WILL hurt you. Take my free masterclass to learn the 5 costly copyright mistakes you're probably making as an author, blogger, or creative.
In this masterclass you'll learn:
Why copyright is the most important protection for authors, bloggers, and creatives and the basics you meed to know right now

The 3 elements your creative works must have in order to be eligible for copyright protection

The biggest reason you shouldn't be afraid to share your work at pitches or networking events and why failing to do so can actually hurt your chances of being successful in your creative career

The best ways to protect your website from copyright theft

The biggest mistake people make when registering their work with the copyright office (hint: it has to do with timing)

Why you must have a contract any time you are licensing your creative works

How not to get hit with a copyright claim for thousands of dollars for using the works of others like video clips, photos, songs, and lyrics in your own creative works and on your website



Plus, just by showing up for my Masterclass, I'm giving you my brand new complimentary checklist:
5 Copyright Mistakes You're Probably Making Checklist-- FOR FREE
This bonus checklist is FREE OF CHARGE and yours to use during and after the workshop.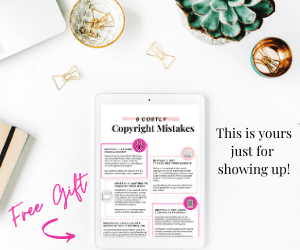 Presented by
Liani Kotcher
Hi! I'm Liani, a former trial attorney-turned-fiction author and blogger who makes learning business tools for creatives easy to understand and entertaining. I have over a decade of experience as an intellectual property attorney at one of the top law firms in the world where I handled complex actions involving intellectual property, trade secret, and entertainment and sports law. But now I'm a creative--like you--writing fiction under the pen name Rektok Ross. I have written and published an Amazon bestselling Young Adult romance, PRODIGAL, and my Young Adult thriller--SKI WEEKEND--will be published fall 2021. It's my goal to make learning business for creatives as simple, accessible, and entertaining as I can. Let me do the heavy lifting so you can focus your time on what really matters--creating!